Melanie Martinez's debut album Cry Baby was finally released on Friday, following an early stream of the album at Noisey. The LP is filled with everything we loved from her previous releases, but paints a more vivid image of Melanie's artistry than ever before! With titles such as "Teddy Bear," "Mrs.Potato Head," and "Tag, You're It" Cry Baby seems like an album of nursery rhymes, until you listen to each twisted tale and realize just how dark Cry Baby's world actually is! Cry Baby is the character created by Melanie and the star of her debut album, but who is this water-eyed girl we've heard so much about?
Without any further ado, let us introduce you to Cry Baby!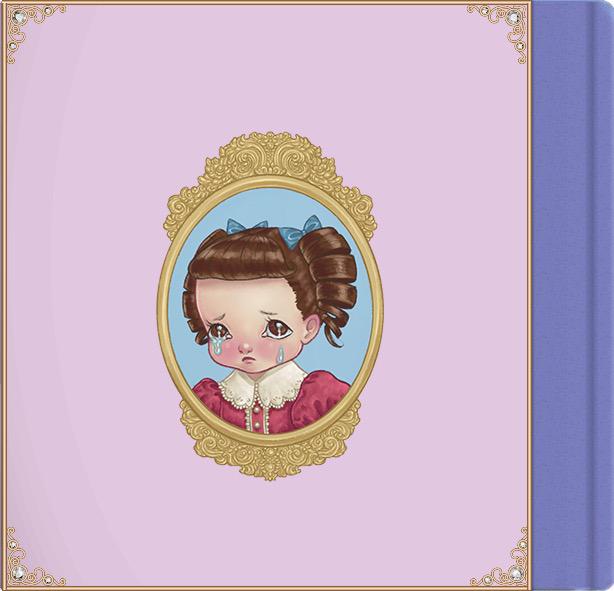 "Cry Baby"

---
The first track introduces Cry Baby as an emotional love sick girl who's heart is just too big for her body. People teased Cry Baby for her water works, but she pretends not to care. Let's see how well that works out for her, shall we?
Favorite lyric:
"Something's turning the handle
To that faucet in your eyes
They're pouring out
Where everyone can see them"
[rspad300x250]
"Dollhouse"

---
After we meet Cry Baby, we get a glimpse of her family life in "Dollhouse." First we meet her mother, the alcoholic house wife with pretty jewels and a not so pretty marriage. Her husband is unfaithful and is with a mistress while their son smokes weed in his bed room.
Although, they put on smiles in front of the camera, Cry Baby and her family are not the perfect dolls people made them out to be. Behind the walls of their doll house, they have secrets just like everyone else.
Favorite lyric:
"When you walk away, it's when we really play
You don't hear me when I say,
Mom, please wake up.
Dad's with a slut, and your son is smoking cannabis"
"Sippy Cup"

---
Melanie opens Cry Baby's walls a little further in "Sippy Cup." We get to see just how serious her parents' problems are. No matter how much her mother tries to hide her alcoholism, Cry Baby knows that she is hiding liquor in her sippy cup. When the drunk mother sees her husband with another woman, she murders both of them only to have Cry Baby walk in on the crime scene. To cover up the murder, her mother drugged her so she would forget the gruesome memory.
Favorite lyric:
"Blood still stains when the sheets are washed
Sex don't sleep when the lights are off
Kids are still depressed when you dress them up
And syrup is still syrup in a sippy cup"
"Carousel"

---
Cry Baby falls in love with a boy who always seems to be too distant from her. Just like the next horse in a carousel, their relationship keeps moving round and round, but they never can truly connect. Sadly, Cry Baby can never catch up to love in "Carousel."
Favorite lyric:
"And it's all fun and games,
'til somebody falls in love,
but you've already bought a ticket,
and there's no turning back now"
"Alphabet Boy"

---
When her boyfriend leaves her to get his music degree, he tries to teach her how to truly write music. Needless to say, Cry Baby didn't like that! She says "F**k your degree, I know my ABCs" and spells out some choice words on her fridge. To prove her unique mastery of songwriting to the "Alphabet Boy," her song's verses go in alphabetical order! Take that, Alphabet boy.  (Really though, pay attention to the verses, it's really neat)
Favorite lyric:
"I know my ABC's, yet you keep teaching me
I say fuck your degree, alphabet boy
You think you're smarter than me with all your bad poetry
Fuck all your ABC's, alphabet boy"
"Soap"

---
Cry Baby meets a boy she likes and is thinking about telling him she loves him. Unfortunately, her mind runs wild and she thinks confessing her love to him would be like throwing a toaster in his bath tub. Instead of telling him, she just washes her mouth out with soap. Check out our full lyrical analysis of "Soap" here!
Favorite lyric:
"Should've never said the word "love"
Threw a toaster in the bathtub
I'm sick of all the games I have to play"
"Training Wheels"

---
Cry Baby finally meets a boy that she is ready to take the next step with. The one true love song of the album, "Training Wheels" is about losing the training wheels of a relationship and not being afraid to fall. Sadly for Cry Baby, sometimes when you fall…it hurts.
Favorite lyric:
"I love everything you do
When you call me fucking dumb for the stupid shit I do
I wanna ride my bike with you"
"Pity Party"

---
Cry Baby took off her training wheels and even invited her crush to her birthday party! Sadly, he never showed up and neither did any of her friends. Trying to make the best of a lame situations, Cry Baby keeps the party going. "Pity Party" is Cry Baby's party-for-one.
Favorite lyric:
"Maybe it's a cruel joke on me
Whatever, whatever
Just means there's way more cake for me
Forever, forever"
"Tag, You're It"

---
When the "wolves," as Melanie calls them, see that Cry Baby is single, they come hunting. "Tag, You're It" is an incredibly dark song about a man pushing Cry Baby down, poisoning her, and taking her home. This dark tale is nearly a rape story and the emotion in Melanie's voice, brings Cry Baby's fear to life.
Favorite lyric:
"Rolling down your window
Driving next to me real slow, he said
"Let me take you for a joyride
I've got some candy for you inside"
"Milk And Cookies"

---
There is a happy ending for Cry Baby (for once) when she escapes and kills the wolf with kindness…well kind of. She actually kills him by poisoning the milk and cookies she made him. Cry Baby really takes after her mother when it comes to ending sucky relationships! The way the wolf forced her to give him "dessert,"  it was probably an abusive relationship. And yeah, it probably wasn't really dessert that he was forcing from Cry Baby either.
Favorite lyric:

"Hush, little baby, drink your spoiled milk
I'm fucking crazy, need my prescription filled
Do you like my cookies? They're made just for you
A little bit of sugar, but a lot of poison, too"
"Pacify Her"

---
At this point of Cry Baby's life, she is numb to love and pain. She sees a boy she likes and goes after him. She doesn't care if he's taken or if she'll end up with a broken heart. She simply gives his girlfriend a pacifier and steals her man. Perhaps, after seeing her father with so many mistresses, Cry Baby has no problem becoming one as well. But, I think on a deeper level Melanie is just saying Cry Baby doesn't care about consequences or what anybody else has to say about her anymore. If they're getting on her nerves, she'll just pacify them!
Favorite lyric:
"Someone told me stay away from things that aren't yours
But was he yours, if he wanted me so bad?"
"Mrs. Potato Head"

---
Cry Baby sees Mrs.Potato Head, a woman with a plastic face and lots of surgery. After being broken hearted so many times, Cry Baby looks at Mrs.Potato Head and wonders if pain is beauty. Cry Baby realizes that it isn't worth paying $1000 for a compliment. Maybe there is beauty in all the pain Cry Baby experienced in her life as well.
Favorite lyric:
"When little girls grow into their mothers face
But little girls are learning how to cut and paste
And pucker up their lips until they suffocate"
"Mad Hatter"

---
After the many twists and turns of Cry Baby's life as an emotional masterpiece, she comes to terms that being called "Cry Baby" isn't an insult at all. She is crazy, but the best people are. She loves who she is, even if she has to cry for a few hours to realize that. She might find love one day, or she might not. Either way, she's done trying to be Alice when she is really the Mad Hatter.
Favorite lyric:
"I'm nuts, baby, I'm mad,
Craziest friend that you've ever had
You think I'm psycho, you think I'm gone
Tell the psychiatrist something is wrong"
---
Cry Baby is out now! Click here to buy the album and get a digital Cry Baby story book!
Note: Populove is currently undergoing site maintenance following a hiatus. Some post images and comments from previous months may not appear as we work on the issue.