Last week, Gaga announced she will release her fifth studio album, titled Joanne, on October 21 through Streamline/Interscope.
The  announcement was made during an interview with Zane Lowe for Radio Beats, and the "Perfect Illusion" singer claimed the LP would be finished  this weekend. Until the reveal, many speculated the album would've been self-titled or simply stuck with the codeword used by fans to address the album, LG5, however the choice to name the record Joanne is more meaningful than that. But who is Joanne? And what is her impact on this record?
Joanne was named after Gaga's late aunt who passed away from Lupus at age 19. The death, though before Gaga was born, left a lasting impact on her and her family, and has been alluded to throughout her entire career.
The first two references made of Joanne Stefani Germanotta were in Lady Gaga's The Fame booklet.
The first, a poem by Joanne titled For A Moment, that was never published:
Yesterday, I took a walk in the rain
The cool refreshing droplets splashed on my cheeks.
I walked, And walked, And walked,
Not knowing where I was going.
The trees swayed as a chilly spring
Gently caressed their branches.
A cute white rabbit scampered
Across a wide open field.
He stopped in front of me in a
Patch of emerald.
He had a quizzical look on his furry little face.
He wiggled his ears,
Crinkled his nose,
And scratched his whiskers like
An old man.
I started to laugh.
He ran off into the distance
Looking like a pearl in a patch of seaweed.
The cool refreshing droplets splashed
On my cheeks.
I walked,
And walked, And walked,
Not knowing where I was going.
I saw a family of ducks on a lake,
I stopped to look,
Mama Duck first,
And all the little ducklings gliding
Behind her in a single file.
They were dancing to the music
of the rain tapping on water.
And then I was my reflection on
the mirror-like surface of the lake
And for a moment…
I was the only living creature around.
The cool refreshing droplets splashed
On my cheeks. I turned,
And walked, And walked,
Knowing where I was going.

–Joanne Stefani Germanotta
The second, a poem written by Lady Gaga for Joanne in the thank you section:
For all the words you could not say
I promise they'll be mine,
The one you meant to marry J
I promise I will find
And when your brother calls for me
I promise I will come,
Cause when I feel that I may break
You heart, it makes mine strong"
–Stefani Joanne Germanotta

One of Gaga's tattoos is a quote from Rainer Maria Rilke, which can be seen above, is not only a mantra to herself, it encompasses the artist that Joanne was before her. Joanne's date of passing is also tattooed in the center of the quote.
The tattoo translates into the following in English:
In the deepest hour of the night,
Confess to yourself that you would die if you were forbidden to write.
And look deep into your heart where it spreads its roots, the answer,
and ask yourself, must I write?
In 2012, Gaga's father opened a family restaurant in New York City, named after Joanne. Joanne Trattoria is still open, in fact, and they recently started selling their own cook book!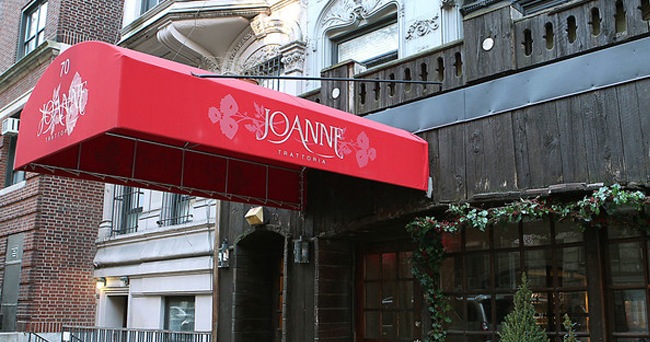 Mother Monster also revealed, her haus members join her in a prayer to Joanne before every show they perform. Gaga even believe part of Joanne's soul was reincarnated into her.
Most recently, rumors have spread of Lady Gaga writing a song for Joanne for her Tony Bennett collaboration Cheek To Cheek, but due to the album taking from the Great American Songbook, her song wasn't used. The song may be used on Joanne, fittingly, and may have been worked into the album's title track.
During the Lowe interview, Gaga said of the title track "[it's] the true heart and soul of the record" and of the album as a whole added, "As I returned to my home life and spending time with my friends and family and getting out of the mainstream limelight for a minute, the experiences of our family and our challenges that make us who we are. It's everything about Joanne … it's all the toughness of the pain of losing her that made us all strong and made us who we are. She is the woman of my past who is becoming and helping me bring more of my honest woman self into the future."
Deciding to name the album after such a personal inspiration, get ready for Gaga's most honest record yet. As every album is a truth to who she is, Joanne will be the woman behind the makeup.
Joanne will be release October 21.
Published in Lady Gaga, More To Love